Essex County commercial painting is a huge job, and should not be taken lightly. As a commercial property owner or manager, you want to be proactive and properly plan for this project. This includes finding a good commercial painting contractor. The company you choose to paint your building will make or break the entire process. You want to be 100% certain that you're selecting a professional and reputable company that has the necessary experience, tools, and manpower to tackle your commercial painting. If you choose the wrong one, it could cost you astronomical amounts of time and money. If you're looking for a quality commercial painting contractor in Essex County, NJ, check out these tips below:
Essex County Commercial Painting | Finding Quality Commercial Painters
Get recommendations:
Ask other commercial property owners or managers who they used for their painting project and if they were satisfied with the results. If you don't know anyone in the area, you can also check online review sites like Google, Yelp, or Angie's List.
Do your research:
Once you have a few commercial painters in mind, take the time to research each one. Visit their website, read customer testimonials, and call to ask any questions you may have. It's important that you get a feel for the company and what they're all about before moving forward.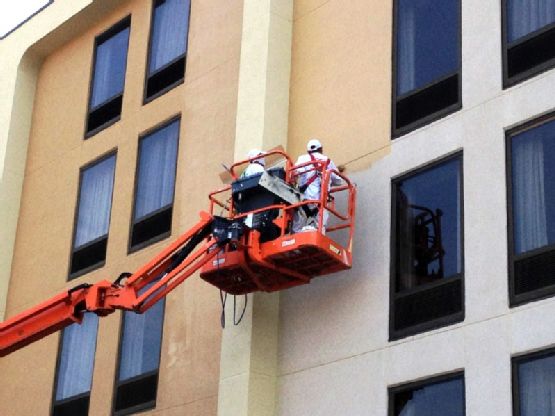 They should be licensed and insured:
This is non-negotiable. You want to be sure that the Essex County commercial painting contractor you're working with is properly licensed and insured. This protects you in the event that something goes wrong during the job.
They should have a solid reputation:
You want to make sure that the painting company has a solid reputation. This can be easily checked by reading online reviews or asking for references. If they have a lot of negative reviews, it's best to steer clear.
Ask about experience:
When you're talking to potential commercial painting companies in Essex County, NJ, be sure to ask about their experience. You want a company that has extensive experience working on commercial properties like yours. This will give you peace of mind knowing they know what they're doing and won't run into any problems along the way.
Compare prices:
Get quotes from multiple commercial painting companies before making a final decision. Be sure to compare apples to apples, though, by getting bids that include the same scope of work. This way, you can be confident you're making the best decision for your budget.
They should use high quality materials:
This is a big one. You want to make sure that the Essex County commercial painting contractor you choose is using high quality materials. This includes paints,Primers, and other supplies. asks for a list of the materials that will be used on your project. If they're not willing to provide this information, it's a major red flag.
Get everything in writing:
Once you've selected a painting contractor, be sure to get everything in writing. This includes the scope of work, timeline, price, and any other important details. Having everything in writing will help ensure there are no misunderstandings down the road.
By following these tips, you're sure to find the best commercial painting contractor in Essex County, NJ for your needs. Be sure to take your time and do your research to ensure you're making the best decision for your property.
Looking for an Experienced & Capable Company for Commercial Painting in the Essex County, New Jersey Area?
Are you looking for a qualified and reputable Essex County painting company with years of experience? The experts at NJ Pro Painting offer professional, high quality exterior and interior commercial and residential painting services to the Essex County, NJ area. Service towns include Roseland, Bloomfield, Millburn, West Caldwell, Glen Ridge, Essex Fells, Nutley, West Orange, Livingston, Maplewood, and many more throughout the state of New Jersey. For more information, call us at 908-477-7667 or check out our website.
Other Posts:
Essex County Painting Contractor